Developer:
Rogers Real Estate Group & Urban Capital
About this project
description
At 61-storeys, M2 is a natural complement and twin sister of the breathtaking M City building. Dance partners twisting and turning skywards in harmony. Its iconic design is instantly recognizable.
As the building rises, the tower's seven typical floorplates take turns skewing to each extreme, stacking in a repetitive pattern. Faceted glass walls give the podium its distinct prismatic shape and complement the large rooftop amenity space. Geometry plays a starring role in the tower's dramatic undulating form. Its serpentine movement towards the sky reflects Mississauga and its ambitious quest.
When it comes to exquisite living, M2 offers the most luxurious penthouses with spectacular views and its family-friendly townhomes at the street level, balance high design with beautifully grounded living. Overlooking M Park, M2 residents will enjoy extensive views and sprawling green space in the neighbourhood that surrounds.
The Team:
Rogers Real Estate Development Limited is the owner and developer of M City. The Company is part of an affiliated group of companies, which together represent the Rogers family private holding companies. The Rogers family private holding companies are the majority and controlling shareholders of Rogers Communications Inc., a leading diversified public Canadian communications company created by one of Canada's all-time business giants, Ted Rogers.
Urban Capital is one of Canada's leading developers with an award-winning reputation for architectural design, environmental sustainability, and a commitment to cities. Working in partnership with the best architects, designers and planners, the company is widely recognized for its pioneering role in bringing high-design urban living across Canada. Consistently named as a top 10 condo developer in Toronto, Urban Capital has over 5,500 condominium units developed or under development since 1996. With a reputation as urban regenerators, the company has brought its high standards and visionary approach to neighbourhood-conscious development from Toronto to Halifax, Ottawa, Montreal, Winnipeg, and Saskatchewan.urbancapital.ca
Incentives Offered:
Built-in Integrated Dishwasher, Fridge, Microwave, Stove, Hood Fan, Stacked Washer/Dryer
Condo Assignment Buying Process:
 Step 1:
Download & Review Floor plans & Price
 Step 2:
Proceed to submitting expression of interest to buy.
 Step 3:
Sales representative will contact you within 24 hours.
Floor Plans Available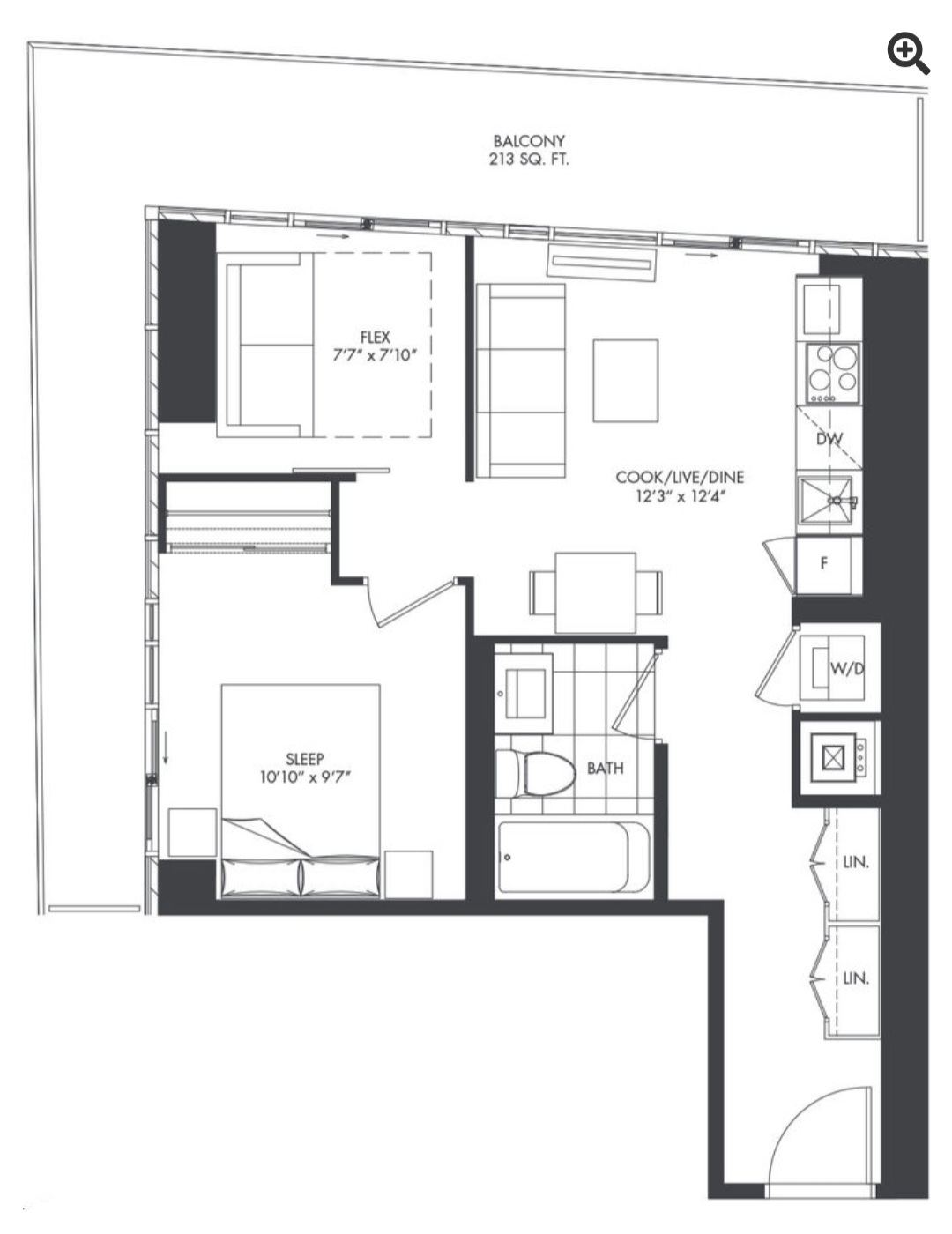 TT
Includes: 1 parking, 1 locker • Interior 571 sq.ft. NW Exposure • 213 sq.ft. Wrap-Around Balcony
Amenities and Features
Other Features
24x7 Concierge
Change Room
Guest Suite
Gym
Home Theatre
Ice Skating Rink
Internet
Kids Play Area
Lobby
Locker
Meeting Area
Outdoor BBQ
Parking
Party Room & Kitchen
Prep Kitchen
Smart Home Tech
Study Area
Swimming Pool
Yoga Studio